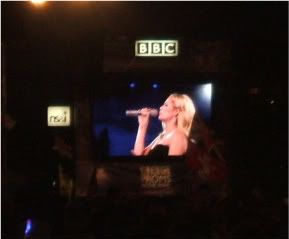 Saturday saw a rare treat - leaving the confines of the West Midlands and heading down to the big smoke that is London. Karen (
karendunn
) organised tickets to "Proms In The Park" which is an event for the masses to celebrate "The Last Night of the Proms".
I should explain.
"The Last Night of the Proms" is a great British institution where for one evening in September, we are allowed to be patriotic and sing songs such as "Rule, Britannia!", "Jerusalem", "Land of Hope and Glory" and "God Save The Queen". There is much waving of flags and general exuberance. Alas, places for the actual "Last Night" at the Royal Albert Hall are rationed, so Good Old Auntie Beeb has, in recent years, organised a series of outdoor events called "Proms In The Park" throughout the country, which culminate in a link up with the Royal Albert Hall for the second half of the concert. We were in Hyde Park, London, along with about 40,000 other souls, spending an afternoon picnicking and drinking Pimms and Lemonade. And there was much waving of flags.
However, I think I enjoyed "Music For The Royal Fireworks" (Handel), performed with accompanying fireworks, the most. I am rather fond of a bit of George Frederic and I understand that performances with fireworks tend to be somewhat rare.
Alas, I did not stay over for the "Thank You For The Music" concert the following night; heard it on the radio, but it would have been nice to have been there...